The heart of Wichita Falls is just under 10 minutes away from Jellystone Park™ Wichita Falls and offers a variety of hiking trails for all levels of expertise. Whether you're staying at our Camp-Resort for a week or weekend, or just passing through Wichita Falls, we recommend checking out one of the many hiking trails this city has to offer. Keep reading for beginner, advanced, and expert hiking trails near Wichita Falls to find one that's perfect for you!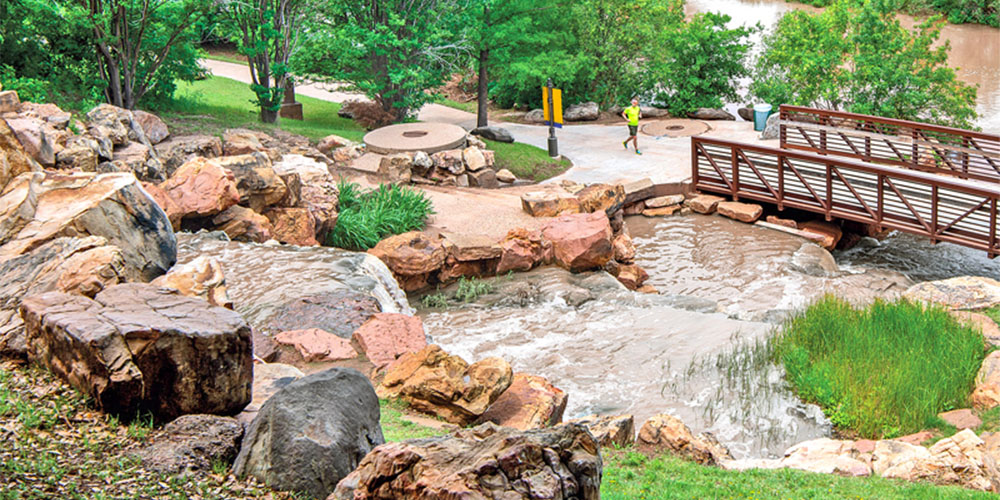 Wichita River Trail: Beginner - 4.4 Miles
Along your trip on the Wichita River Trail, you'll find some of the most beautiful scenery in the city. Peaceful and serene wooded areas all around are alive with color in both spring and fall. Wildlife such as white-tailed deer, squirrels, and all kinds of birds can often be seen. Located just 10 miles from our Camp-Resot, it's worth the trip just to smell the honeysuckle!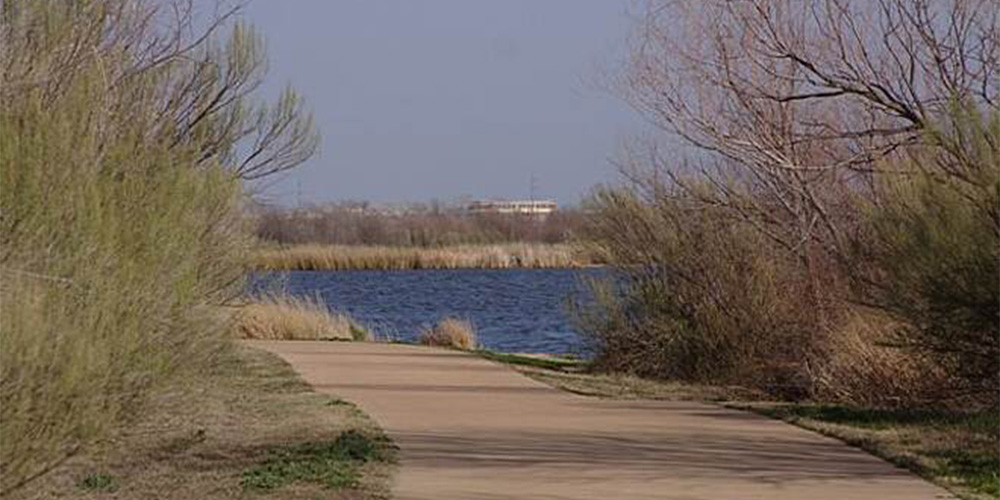 Holliday Creek Trail: Beginner - 10 miles
The Holliday Creek Trail is located just 6 miles from our Camp-Resort and covers 10.01 miles. It starts at Lake Wichita Park where it follows the north shoreline of Lake Wichita, crosses a dam, and then follows Holliday Creek all the way to Williams Park. There, it connects to the Wichita River Trial for an extended hike if you so choose.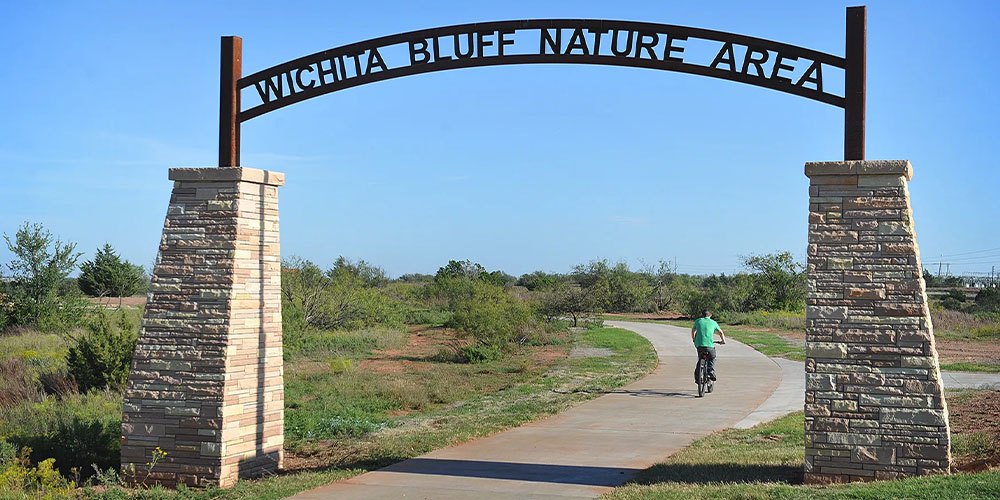 Wichita Bluffs Nature Trail: Beginner - 3.3 miles out-and-back
This 3.3-mile out-and-back trail near Wichita Falls, located just 15 minutes from our Camp-Resort, takes an average of just over 1 hour to complete. This is a popular trail for birding, road biking, and trail running, but you can still enjoy some solitude during quieter times of the day. The Wichita Bluffs Nature Trail is open year-round and is beautiful to visit anytime.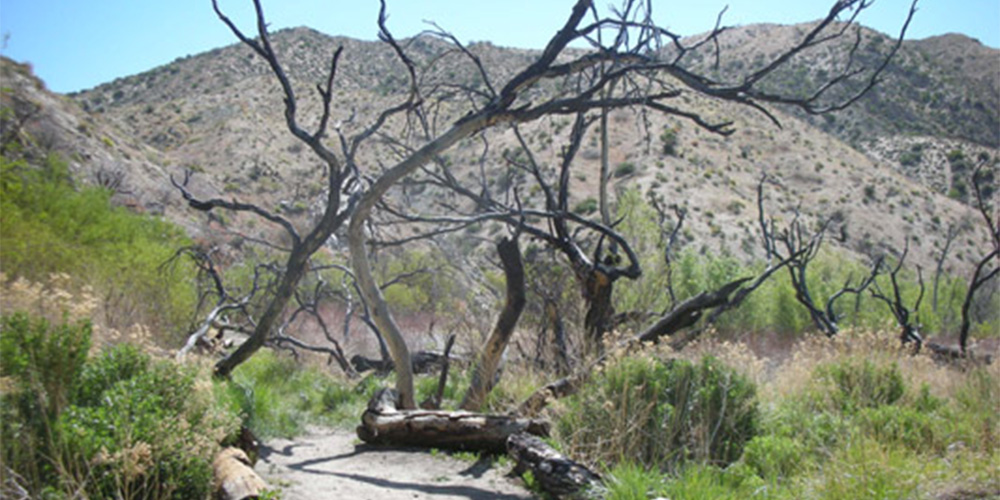 Mesquite Trail: Beginner - .51 miles
Located just 10 minutes from our Camp-Resort, take a trip to enjoy an enchanting streamside walk under the canopy of Fremont cottonwoods and red willows. On this hiking trail near Wichita Falls, boardwalks and bridges lead you along the stream that forms the marsh habitat which supports cattails, bulrushes, wire rushes, water cress and yerba mansa. Travel along the base of the Yucca Ridge and relax on the benches of the large octagon-shaped George Helmkamp Deck. Enjoy the Mesquite Trail for a serene and peaceful hike.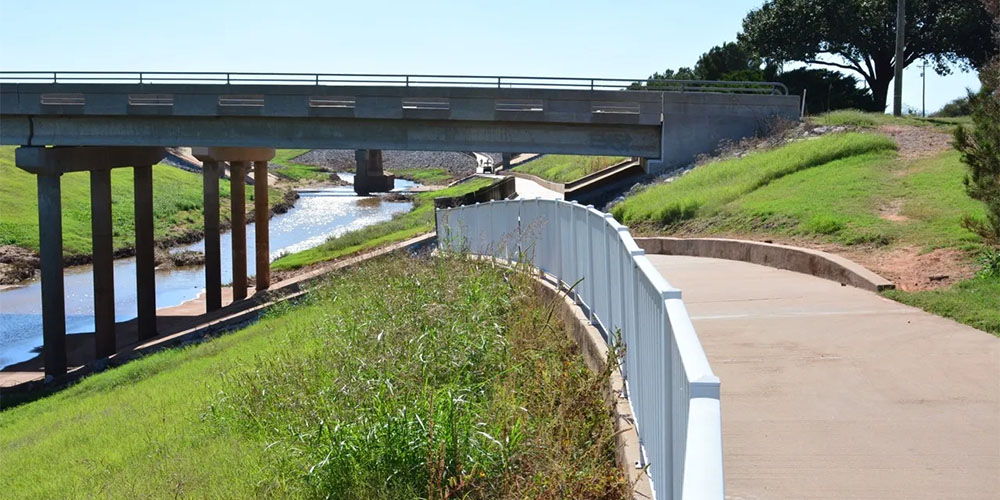 Seymour Highway Trail: Beginner - 1.76 miles
Completed in 2012, this section of the Circle Trail covers 1.76 miles. It starts at the Wichita Bluff Nature Area Parking Lot, located just 13 minutes from Jellystone Park™ Wichita Falls. It then follows Seymour Highway west to the BNSF Railroad. This short hike is the perfect option for beginners. Enjoy the Seymour Highway Trail today.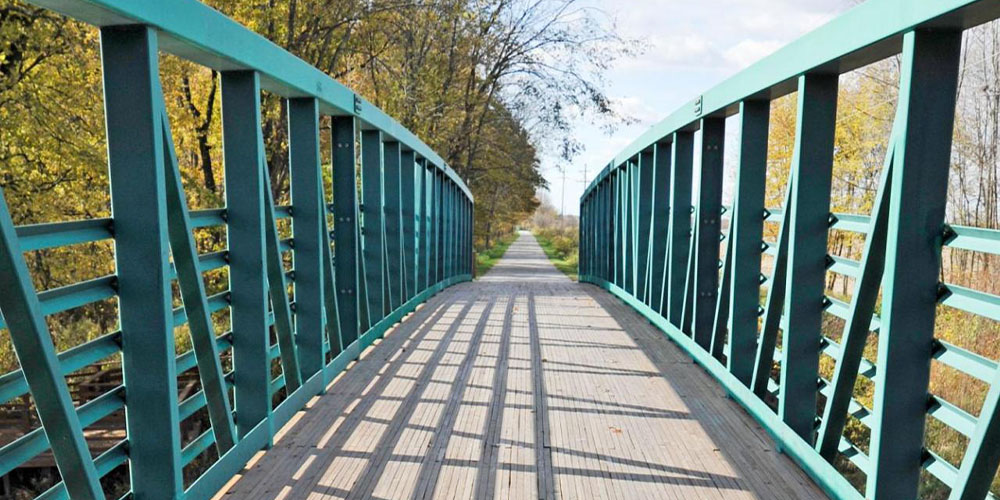 Wichita Valley Rail Trail: Beginner - 5.6 miles
The Wichita Valley Rail Trail travels from the southwestern end of Wichita Falls to the eastern edge of Holliday, spanning a travel of seven miles. The trail was once part of the Wichita Valley Railway and formed from a non-profit entity and a collection of volunteers. Fitness stations are available each mile, and both walking and biking are allowed. The trail is currently layered with gravel but more improvements are on the horizon. Located 10 minutes from our Camp-Resort, there's alot of wildlife to see and open space to enjoy your travels.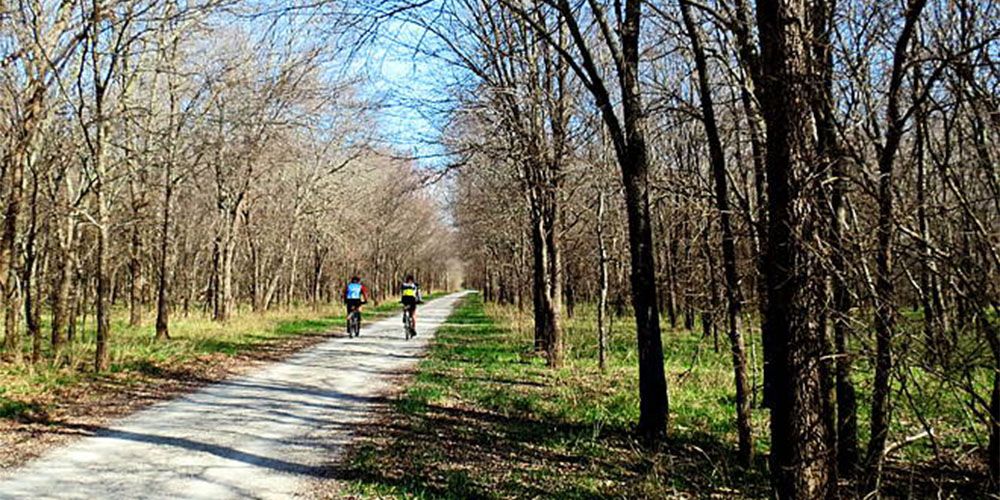 Ray Roberts Greenbelt: Moderate - 10.5 miles
Located just an hour and 45 minutes from our Camp-Resort, northeast of Denton, the Ray Roberts Greenbelt offers many recreational opportunities. It follows the heavily wooded banks of the Trinity River, connecting two major lakes: Lake Lewisville at its southern tip and Ray Roberts Lake at its northern end. Along the northern half of the route, from FM 455 to FM 428, the trail splits in two. On the river's west side, a hard-surface trail is provided for bikers and walkers, while an equestrian path can be found along its eastern bank.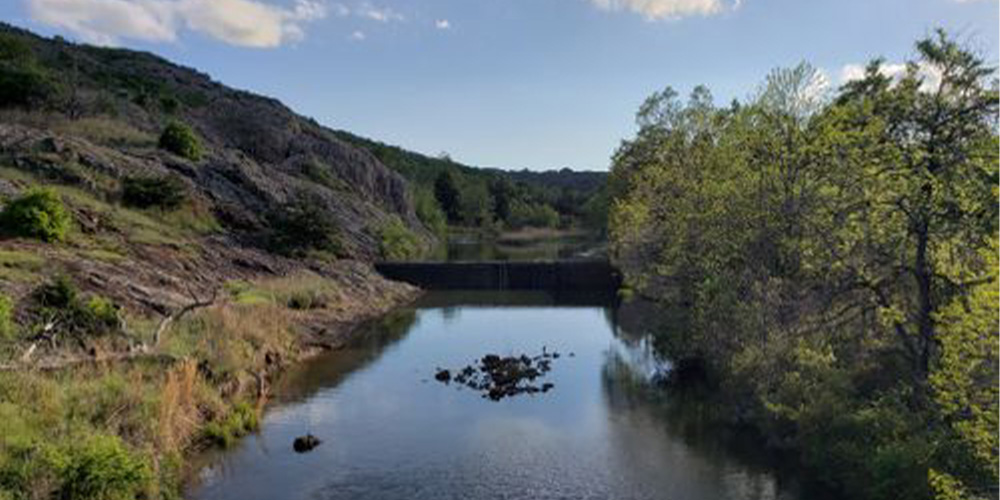 Elk Mountain Trailhead: Moderate - 2.8 miles
Elk Mountain is one of the tallest granite peaks in the beautiful Wichita Mountains Wildlife Refuge. Its summit is at 2,270 feet, and the Elk Mountain Trail allows hikers to be able to view the Charon Garden Wilderness and the Wichita Mountains Wildlife Refuge from the top. This hike is perfect practice for more difficult hikes in the future, with its continuous gradual climb. Located under an hour and a half from our Camp-Resort, be sure to add this hike to your list.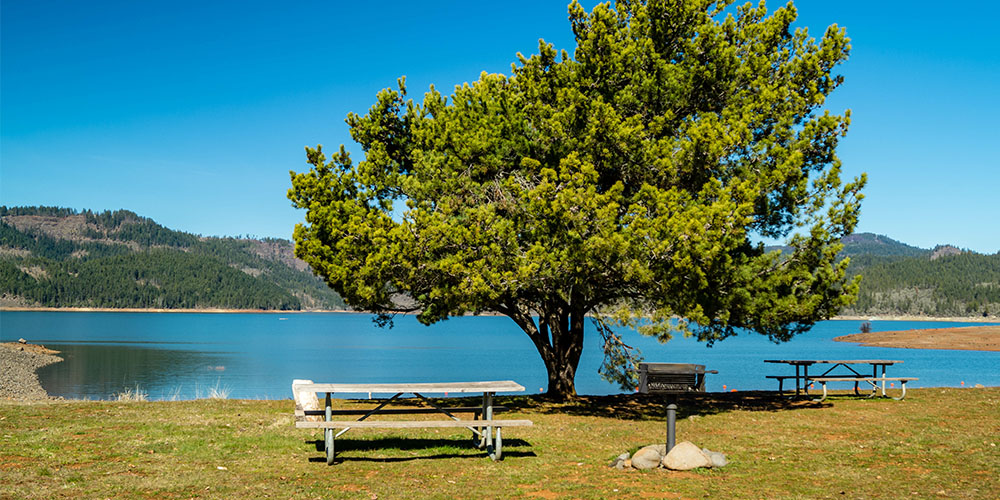 Lost Creek Reservoir State Trailway: Moderate - 9 miles
The Lost Creek Reservoir State Trailway follows scenic Lost Creek to the east side of Lake Jacksboro and Lost Creek Reservoir. It crosses a dam at Lost Creek Reservoir, then winds along the west side. While on this 9 mile hike, you'll witness wildlife and wildflowers as you travel the trailway. Hike, bike or ride through shaded areas of pecan and oak trees. Most of the trail runs beside the creek or lakes, so be sure to enjoy stops to fish, swim, or just to relax. Watch for great blue herons, kingfishers, and even osprey hunting fish in Lake Jackson. Located just under an hour away from Jellystone Park™ Wichita Falls, this is a great hike for the more experienced hiker.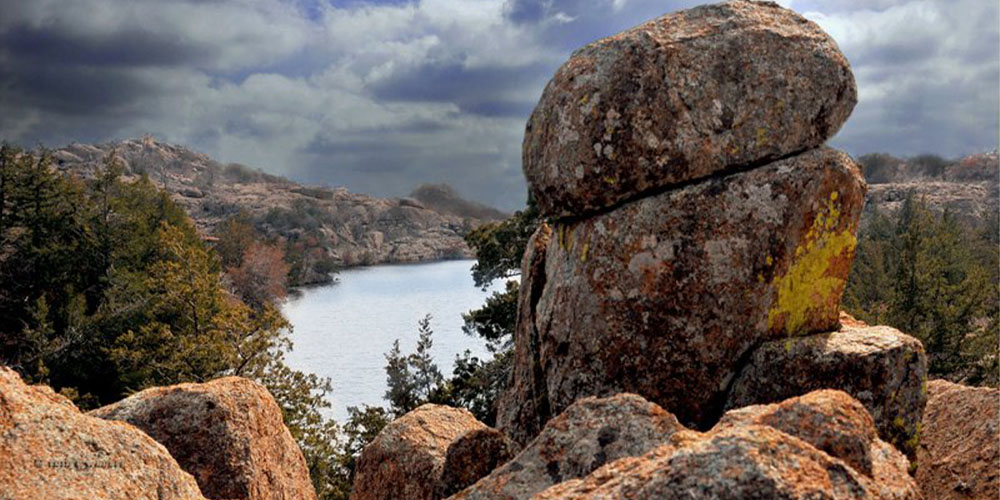 Charon's Garden Trail: Expert - 2.4 miles
Located just under an hour and a half away from our Camp-Resort in southwestern Oklahoma, is a hiker's dream - the Charon's Garden Trail. This area of the Wichita Mountains Wildlife Refuge consists of a rocky, rugged landscape, with areas featuring huge granite boulders, scattered around on the granite surface. Trail visitors will find opportunities for boulder hopping and rock climbing as well as hiking.
What are you waiting for?! It's time to explore one, multiple, or all of these Wichita Falls hiking trails to top off your family getaway. Don't forget to bring sunscreen, plenty of water, and snacks!